Detailing Service In Maryland | MD

Five Different Options For Auto Detailing In Maryland
One of the best ways to really show off your vehicle is to have it properly maintained, which is where Pohanka Hyundai of Capitol Heights' detailing service in Maryland comes in. Just like an engine, you must keep the interior and exterior of your vehicle clean to ensure the highest returns. Don't be the victim of "Wash Me" written in dirt on your rear window; stop by our service department today to take advantage of our cleaning and detailing service.
Depending on the size of your passenger car, sport utility vehicle, or pickup truck, you can get a full detailing and cleaning of your vehicle for under $100. Our full detail service entails cleaning the engine compartment so that it's free of dirt and other particles that could be harmful to your engine, and a cleaning of the interior and exterior windows. We then move on to clean your wheels, wheel wells, and tires to make sure everything nice and shiny. After we clean and vacuum the interior to get any dirt, leaves, and other debris, we'll clean and shampoo the carpets to get out that deep down dirt and grime.
When all that is finished, we'll give the exterior of your vehicle good washing, drying, buffing, and then apply some paint sealant. Paint sealant is a great way to further protect the exterior of your car from the elements and any dings that happen along the way.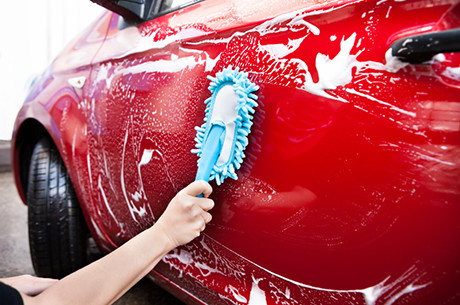 If you're looking for just a good, clean interior, we'll vacuum and shampoo the carpets, clean the interior surfaces, seats, and windows, and then apply fabric protectant. This will help protect your seat covers from stains due to mud, rain, and even spilled coffee or soda. And to top it all off, we throw in an exterior wash so that the outside looks as good as the inside.
Want a beautiful and sparkling outside? Choose our exterior detail, which cleans the engine compartment, wheels, and wheel openings. We'll also clean the windows inside and out, and apply tire shine to protect and show off your new-looking wheels. Finally, we'll wash, buff, and apply sealant to your paint for that "just out of the showroom" look. And just for fun, we'll vacuum the interior, too.
The Deluxe Wash is our most affordable detailing service that entails an exterior wash, interior vacuuming, wipe of the dash and instrument panel, and cleaning of the windows. We'll also clean those ever-dirty wheels and wheel wells. For just a bit more, the Deluxe Wash and Wax is just a little bit different, but includes some different services. We'll apply tire shine and paint sealant to your vehicle, clean the wheels, wheel wells, and windows, and give you a nice exterior wash.
With five different washes to choose from, you're sure to find an option that suits your exact needs. Visit your local Maryland Hyundai dealer, Pohanka Hyundai of Capitol Heights, MD, and stop by our service department to take advantage of our services today.