2017 Hyundai Santa Fe for Sale near College Park, MD
Check Out the New 2017 Hyundai Santa Fe Today!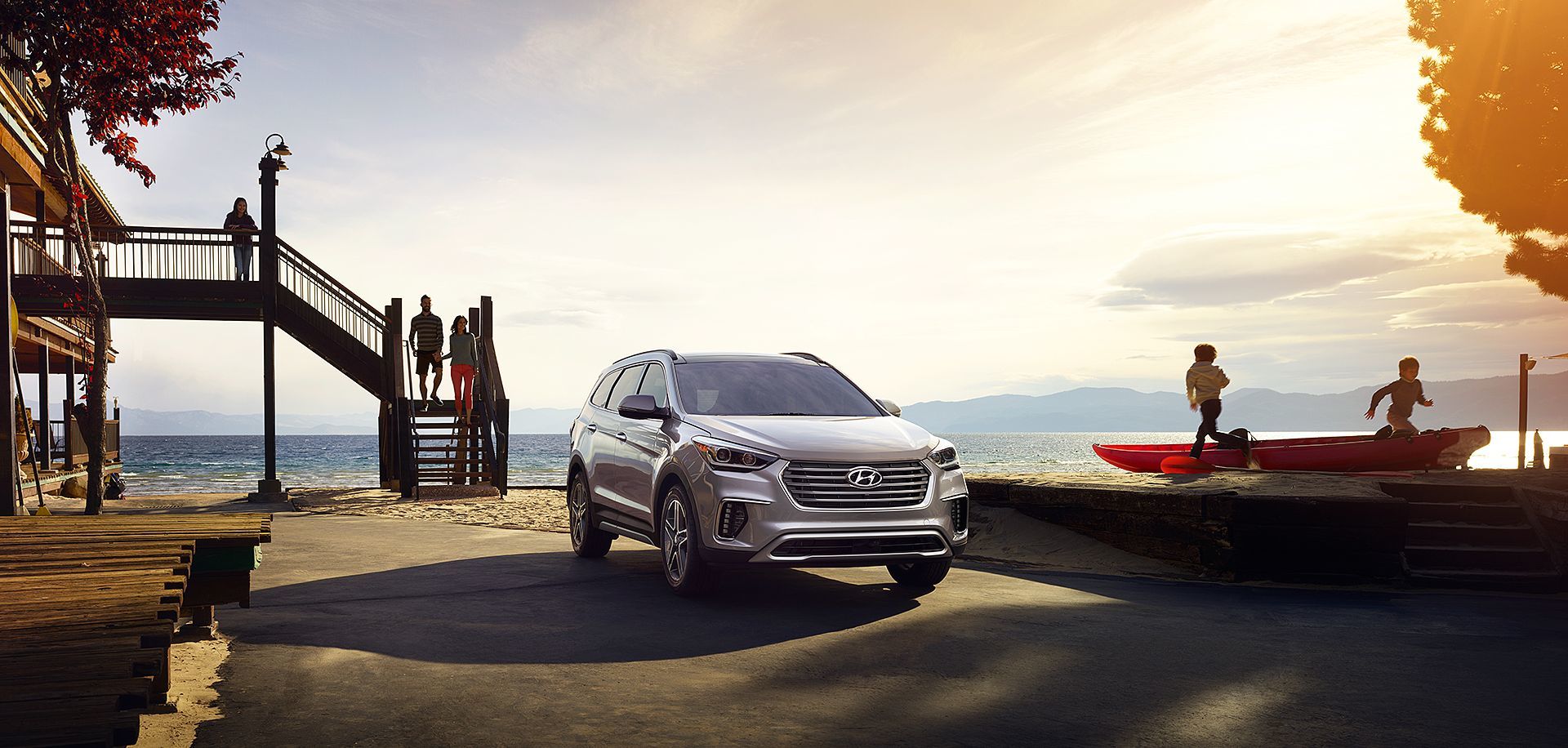 It's no easy feat to find a three-row crossover that exceeds all your expectations. However, all it takes is one visit to Pohanka Hyundai to accomplish this, as the 2017 Hyundai Santa Fe for sale near College Park, MD, is already on our showroom floor! With its spacious interior, exciting technology, and state-of-the-art safety features, this three-row crossover goes above and beyond anything you've ever driven before. Take one for a test drive today.
Hyundai knows you plan on spending a lot of time in the 2017 Santa Fe, so it was designed to be as spacious and comfortable as possible. It comes standard with seating for seven passengers, while the Limited and Limited Ultimate trim levels offer seating for six. Both configurations have either a 40/20/40 split, or a 50/50 split, for impressive versatility. With a full car of friends, there's 13.5 cubic ft. of cargo space behind the third-row. When folded flat, this expands to 41 cubic ft. of cargo space, or you can fold both rows flat for 80 cubic ft. of cargo space for when you're moving in your teenager to the University of Maryland. Every passenger can enjoy a view of the sun and the stars with the available panoramic sunroof, as well as set their preferred temperature with the dual automatic temperature control. Seats can be wrapped in supple leather, while they come standard in premium cloth made from YES Essentials®1, which help fight messes as they're stain resistant.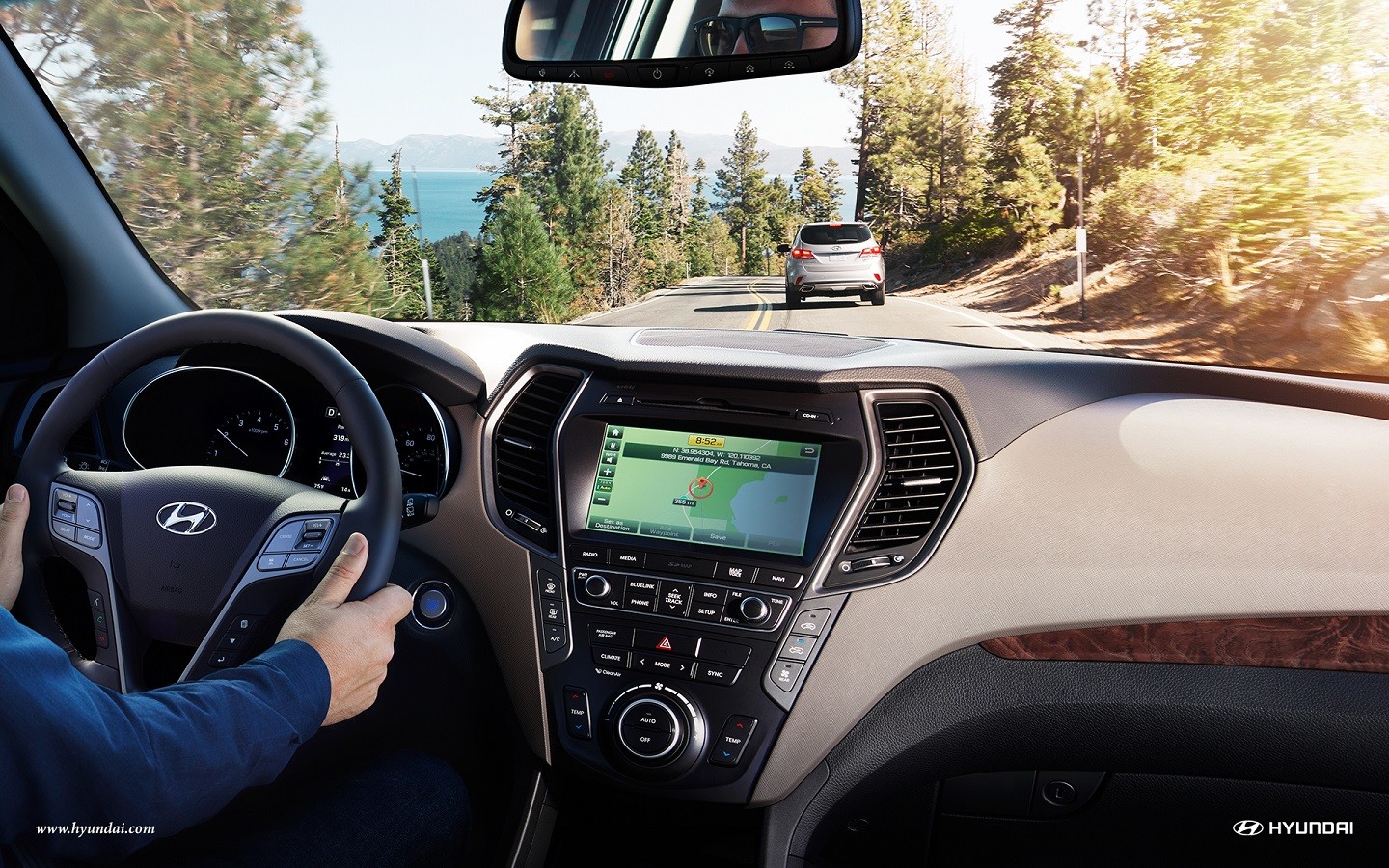 To make sure you enjoy every drive, the 2017 Hyundai Santa Fe for sale near College Park, MD, is loaded with exciting tech. The standard 7-inch touchscreen boasts the latest in smartphone integration – Android Auto™, as well as SiriusXM® Satellite Radio and HD Radio™ to conquer your thirst for new music. On the upgraded 8-inch touchscreen, you'll also have the innovative navigation system. It not only provides turn-by-turn directions, but also uses SiriusXM® Travel Link to update you on traffic conditions, weather, sport scores, and more.
Whether you're running errands to MOM's Organic Market, picking up the kids at Greenbelt Middle School, or taking a road trip to Philadelphia, the 2017 Hyundai Santa Fe is ready. Its commanding 3.3L V6 engine churns out 270 horsepower and 252 lbs.-ft. of torque, which is more standard power than both the Toyota Highlander and the Honda Pilot2. It also boasts a towing capacity of 5,000-lbs. for when you want to bring your boat to Chesapeake Bay, and AWD for when I-495 gets icy.
While it's clear the Hyundai Santa Fe is fun to drive, it's just as important that it's safe to drive. You'll be able to confidently change lanes with the Blind Spot Detection3, which uses a radar-based system to identify vehicles is in your blind spot, and will notify you with an audible and visual alert. For assistance backing up, Rear Cross-Traffic Alert4 can warn you of vehicles that are approaching from the side, while the rear parking sensors5 in the rear bumper provide an audible warning that will get faster as you get closer to objects and other vehicles behind you. There's also the Lane Departure Warning6 to let you know when you're unintentionally drifting from your current lane.
Don't wait any longer to make the 2017 Hyundai Santa Fe for sale near College Park, MD, your next three-row crossover. To schedule a test drive here at Pohanka Hyundai, fill out the convenient form on our website, or give us a call at 855-442-7849.
1 YES Essentials is a registered trademark of Sage Automotive Interiors, Inc.
2 Claim based on comparison of specifications on manufacturer websites.
3 Blind Spot Detection assists the driver by warning of other cars in the blind spot region. It senses the rear side territory of the vehicle when it is traveling over 20 mph. Lane Change Assist provides an audible and visual alert if the turn signal is activated and another vehicle in the blind spot is sensed. The turn signals must be activated for the Lane Change Assist to function. There are limitations to the function, range, detection and clarity of the system. It will not detect all vehicles or objects in the blind spot. Its operation depends on the size, distance, angle and relative speed difference between your car and other cars. Blind Spot Detection and Lane Change Assist may not operate if sensors are obscured in any way. Do not rely exclusively on Blind Spot Detection. Blind Spot Detection is a supplemental system and the driver must still be attentive and exercise caution when driving with it. It is important to always signal, look over your shoulder and through your mirrors before changing lanes. It is the driver's responsibility to be aware of the surroundings and ensure it is clear before changing lanes or directions. Blind Spot Detection is only meant to assist the driver in these responsibilities. See Owner's Manual for further product details and limitations.
4 The Rear Cross-traffic Alert system is designed to notify drivers of approaching cross-traffic behind the vehicle. When a vehicle is detected, it provides an audible warning and visual display warning. Rear Cross-traffic Alert is a supplemental system and the driver must still exercise extreme caution when backing up. Drivers must always turn and view oncoming traffic before backing up. Rear Cross-traffic Alert is active when the vehicle is in reverse and backing at a speed less than 6 mph. It may not detect all vehicles, depending on the size, angle, distance and speed of the other vehicle. In addition, Rear Cross-traffic Alert does not detect stationary objects or slow moving objects near the car, including pedestrians (including children), shopping carts, bicycles or baby strollers. The sensor will not function if foreign material, bicycle racks, luggage carriers, bumper stickers, mud or snow blocks it. Please see Owner's Manual for additional information.
5 The optional Parking Assistance System is a supplemental system and not a substitute for proper parking and/or backing-up procedures. The system is designed to audibly warn the driver of objects 39 inches in front of the vehicle or 47 inches behind the vehicle. When active, the system operates when you are in reverse at up to 6 mph and moving forward at up to 12 mph. System may not detect every object in front or behind you. Always check your surroundings before moving the vehicle. When backing up, always look over your shoulder and use the rearview camera and mirrors to confirm clearance. System effectiveness depends on many factors. See your Owner's Manual for details.
6 Lane Departure Warning will not work under all circumstances. It functions when it is able to detect painted lane markings. It cannot function if the lane markings cannot be seen clearly if the lines are faded, or during dusk without headlights on, with snow, rain, sleet, dust, leaves or standing water on road, sudden changes in brightness such as shadows, tunnel exits/entrances, low sunlight angle causing reflections, multiple lane markings or criss-crossed lines, tar crack sealer and cracked or broken road surfaces. It also may not function on very rough roads, when walls, curbs or concrete barriers are close by, or if following another car too closely. Since it "sees" the lane markings using a camera in the upper windshield area, it is imperative this area be clear and free of blockage such as stickers, dirt, snow, tinting material, markings and labels. Avoid putting objects on the dashboard that may reflect light or images onto the system camera area.