2017 Hyundai Santa Fe for Sale near Alexandria, VA
See the Exceptional 2017 Santa Fe at Pohanka Hyundai Today!

While almost all vehicle manufactures have three-row crossovers in their lineup, not many already have new and exciting 2017 models that are sure to exceed your expectations. To get your hands on one, visit Pohanka Hyundai, where we have the 2017 Hyundai Santa Fe for sale near Alexandria, VA, ready to be test driven. Its bold design, versatile space, and exciting features are sure to be everything you want in a new vehicle.
Creating a three-row crossover that turns heads starts with a bold exterior. To achieve this, the 2017 Hyundai Santa Fe has a Fluidic Sculpture to embody both power and strength. The standard 18-inch alloy wheels will capture everyone's attention, while the available 19-inch wheels are now offered in new bold designs. The exterior is also surrounded by bright LED lights, which include Daytime Running Lights, headlight accents, fog lights, and even taillights. For even more visibility, heated side mirrors come standard, so snow and ice buildup won't hinder your view of vehicles around you.
In terms of cargo, the 2017 Hyundai Santa Fe for sale near Alexandria, VA, is ready for anything you want to bring along for the adventure. Both the second and third-rows have folding capabilities, so you can fold the third-row flat for 41 cubic ft. of cargo space, or both rows flat for 80 cubic ft. If you have a full car of either six or seven passengers, depending on the trim level, there's still 13.5 cubic ft. of space behind the third-row. For items too large to fit inside, like a muddy bike, there are standard roof rack side rails. And for your largest of items, like a boat, take advantage of the 5,000-lb. towing capacity.
Beyond its spaciousness, the interior of the 2017 Santa Fe has a lot to offer. You can keep warm during the long New England winter with available heated front and second-row seats, and an available heated steering wheel. You are your passengers can keep your smart gadgets powered up with four 12V power outlets and third-row USB outlet.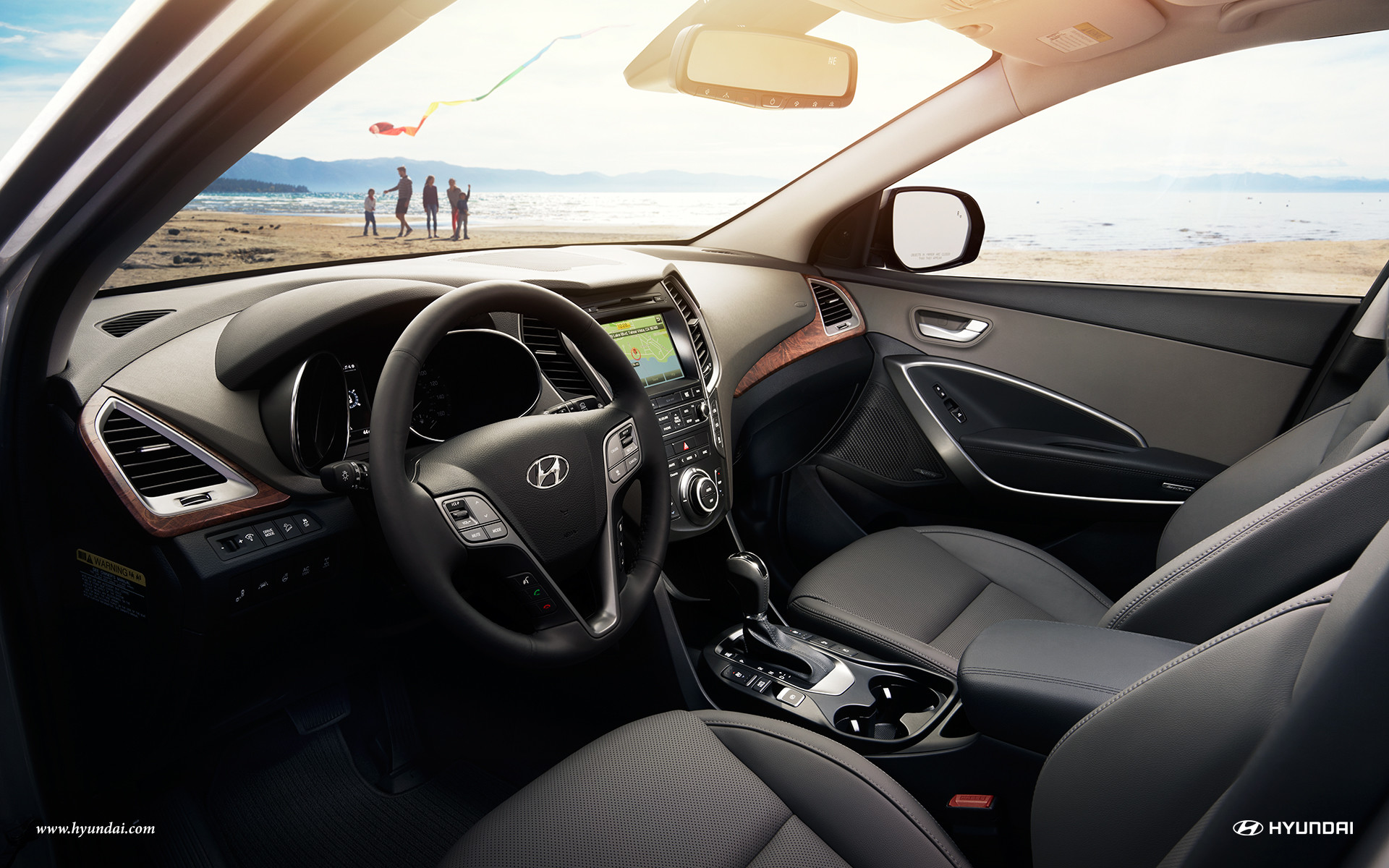 The redesigned center stack draws your attention with either a standard 7-inch or upgraded 8-inch touchscreen, which offers a navigation system for easy turn-by-turn directions on your road trip to Baltimore. The Bluetooth® hands-free phone system comes standard, as well as the latest in smartphone integration, Android Auto™. Just use your voice or the full-color touchscreen to send a text, check your email, and more.
While it's clear the Hyundai Santa Fe provides a fun driving experience, it'll also keep you and your passengers protected with the latest advancements in safety. Change lanes safely when driving down I-495 with the Blind Spot Detection System1, and avoid unintentional drift out of your current lane with Lane Departure Warning2. One of the most exciting new features is the available Multi-view Camera System. On the touchscreen, you'll see a 360-degree view around the entire Santa Fe, streamed from four different cameras. You'll even see a view of the vehicle from above, so you know exactly how close you are to other objects.
When you're ready to drive home in an impeccably stylish and versatile three-row crossover, visit Pohanka Hyundai to test drive the 2017 Hyundai Santa Fe for sale near Alexandria, VA. We are located off of Capital Beltway Exit 13 at 1770 Ritchie Station Court in Capitol Heights, MD, just down the street from McDonalds.
1 Blind Spot Detection assists the driver by warning of other cars in the blind spot region. It senses the rear side territory of the vehicle when it is traveling over 20 mph. Lane Change Assist provides an audible and visual alert if the turn signal is activated and another vehicle in the blind spot is sensed. The turn signals must be activated for the Lane Change Assist to function. There are limitations to the function, range, detection and clarity of the system. It will not detect all vehicles or objects in the blind spot. Its operation depends on the size, distance, angle and relative speed difference between your car and other cars. Blind Spot Detection and Lane Change Assist may not operate if sensors are obscured in any way. Do not rely exclusively on Blind Spot Detection. Blind Spot Detection is a supplemental system and the driver must still be attentive and exercise caution when driving with it. It is important to always signal, look over your shoulder and through your mirrors before changing lanes. It is the driver's responsibility to be aware of the surroundings and ensure it is clear before changing lanes or directions. Blind Spot Detection is only meant to assist the driver in these responsibilities. See Owner's Manual for further product details and limitations.
2 Lane Departure Warning will not work under all circumstances. It functions when it is able to detect painted lane markings. It cannot function if the lane markings cannot be seen clearly if the lines are faded, or during dusk without headlights on, with snow, rain, sleet, dust, leaves or standing water on road, sudden changes in brightness such as shadows, tunnel exits/entrances, low sunlight angle causing reflections, multiple lane markings or criss-crossed lines, tar crack sealer and cracked or broken road surfaces. It also may not function on very rough roads, when walls, curbs or concrete barriers are close by, or if following another car too closely. Since it "sees" the lane markings using a camera in the upper windshield area, it is imperative this area be clear and free of blockage such as stickers, dirt, snow, tinting material, markings and labels. Avoid putting objects on the dashboard that may reflect light or images onto the system camera area.